High-performing leaders boost team performance and increase retention. In fact, a recent Gallup study found that 70% of a team's engagement is heavily influenced by leaders.
The Problem
This is one of the key reasons a 2016 Grovo Study made such dismal reading. It found that 98% of respondents felt that the leaders at their company needed substantially more training in core leadership areas.
On top of all of this, the majority of leadership training centers on procedural skills. It focuses on the mechanics of traditional management rather than the skills and behaviors of modern, coaching-based leadership.
The reality is that your leaders struggle every day to balance competing instincts, experiences, values and requirements in novel and complex situations. Put another way, if there were a simple flowchart to deal with all leadership situations, we would have completely replaced leaders with software 30 years ago.
PeopleStorming exceeded my expectations and provided incredible value in how I approach leadership. The facilitation was fantastic, and the working frameworks were pragmatic and well-defined. The takeaways from the experience are already improving my day-to-day, and I expect them to continue to yield value for years to come.

Mike K. - Engineering Mgr - Aurora Solar
The Solution
An effective leadership program has to account for this reality - which is why we've thrown out the rule book and created a multi-faceted program that blends training, facilitation and coaching.
We deliver an immersive learning journey that focuses on 7 of the core leadership strengths identified by Google's Project Oxygen. Namely, a good leader...
Is a good coach.
Empowers the team and doesn't micromanage people.
Creates an inclusive team, showing concern for everyone's success and well-being.
Is productive and results-oriented.
Is a good communicator - they listen and share information.
Supports career development and discusses performance.
Is a strong decision maker.
We've carefully chosen a blend of workshops (listed below), coaching support, and resources that will accelerate your leader's learning, deepen their understanding and help them to scale their impact effectively.
My experience with this Leadership Program has been truly exceptional and transformative. Their personalized approach empowered me to clearly identify and address key gaps in my leadership and personal development. The PeopleStorming team exhibited the utmost professionalism & consistently exceeded expectations throughout the entire 6-month program. I wholeheartedly recommend PeopleStorming to anyone seeking meaningful growth and development in their leadership journey.

Josh S. - People Ops Mgr - GuestReady
The Program
Group workshops, roundtables and personalized coaching
5 Workshops
10 hours of live, virtual sessions facilitated by industry experienced coaches
Workbooks, tools and frameworks
Small group exercises, whole group discussions, experiments and more
5 Roundtables
Whole-group gatherings with pre-session prompts to generate high-quality discussion
Structured conversation around program topics
Guided peer-to-peer learning encouraging cross pollination of ideas
Develops a manager support network
3 Individual Coaching Sessions
1 onboarding / goal setting session prior to the workshop series
1 mid-way session to check-in on learning progress and debug any challenges
1 future-focused session close to graduation
Option for additional sessions as needed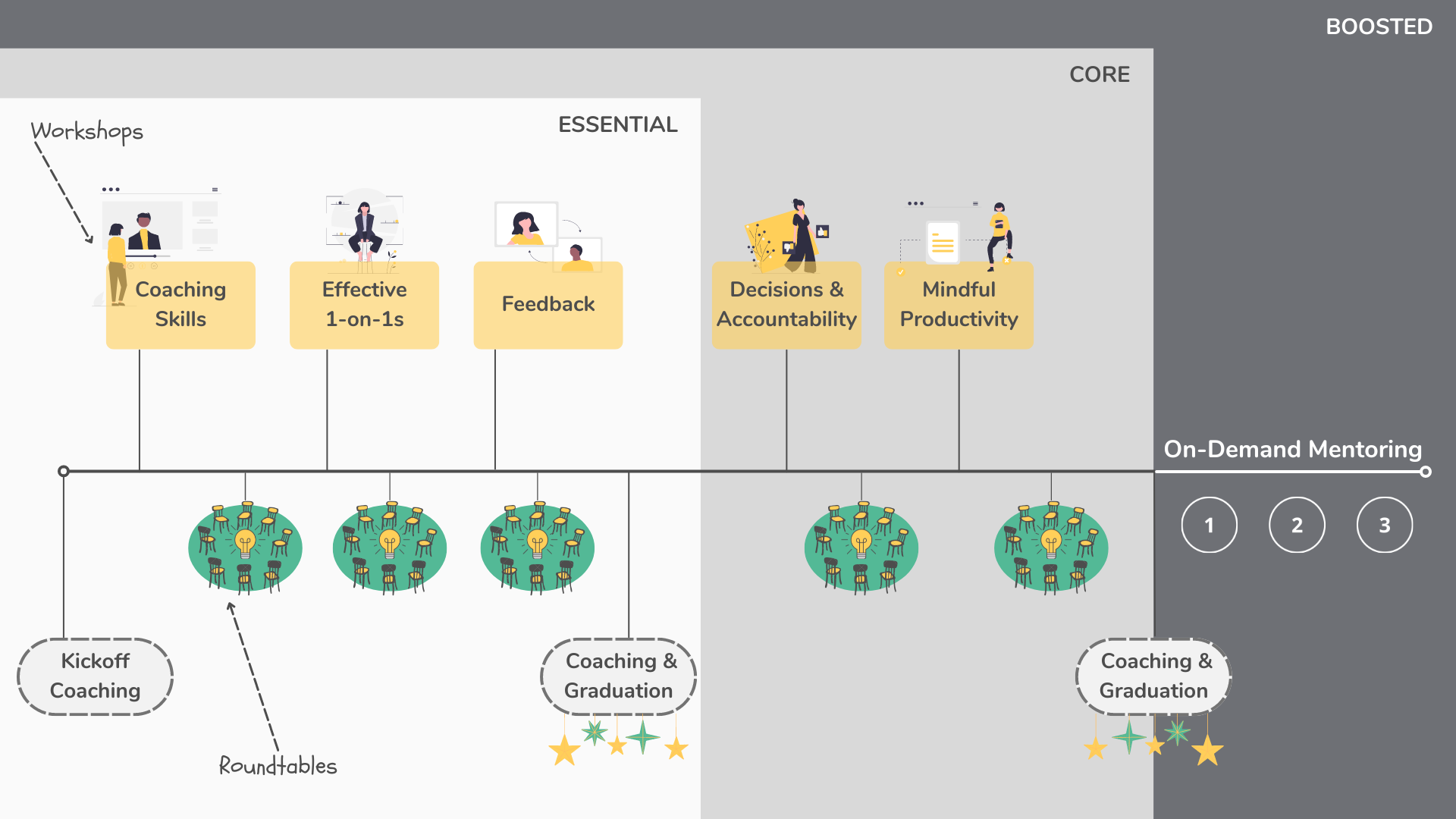 Supporting Materials
All leaders have their own personalized program companion to help them keep track of progress, ideas and actions. They also receive a handout for each workshop to give them references as they continue to hone their skills and behaviors long into the future.
This training was one of the most valuable learning opportunities I've had. Each moment was designed in such a way to be of extremely high value, and while I've gone through manager trainings previously, this one was the most impactful in challenging my assumptions and preconceived notions about serving my team and enabling their success. The program combined research with creative approaches. It was an incredible model of adaptive learning that in many ways mirrors the content being explored itself.

Alexis G. - Mgr, Customer Success - Aurora Solar