High-performing leaders boost team performance and increase retention. In fact, a recent Gallup study found that 70% of a team's engagement is heavily influenced by leaders.
The Problem
This is one of the key reasons a 2016 Grovo Study made such dismal reading. It found that 98% of respondents felt that the leaders at their company needed substantially more training in core leadership areas.
On top of all of this, the majority of leadership training centers on procedural skills. It focuses on the mechanics of traditional management rather than the skills and behaviors of modern, coaching-based leadership.
The reality is that your leaders struggle every day to balance competing instincts, experiences, values and requirements in novel and complex situations. Put another way, if there were a simple flowchart to deal with all leadership situations, we would have completely replaced leaders with software 30 years ago.
The Solution
An effective leadership program has to account for this reality - which is why we've thrown out the rule book and created a multi-faceted program that blends training, facilitation and coaching.
We deliver an immersive learning journey that focuses on 7 of the core leadership strengths identified by Google's Project Oxygen. Namely, a good leader...
Is a good coach.
Empowers the team and doesn't micromanage people.
Creates an inclusive team, showing concern for everyone's success and well-being.
Is productive and results-oriented.
Is a good communicator - they listen and share information.
Supports career development and discusses performance.
Is a strong decision maker.
We've carefully chosen a blend of workshops (listed below), coaching support, and resources that will accelerate your leader's learning, deepen their understanding and help them to scale their impact effectively.
Our leadership program has two tracks to accommodate managers of varying levels of experience.
Core Leader Track
Overview: group workshops, roundtables and limited personalized coaching
This track is aimed at newer (or less experienced) leaders. 
Participants kick things off with an individual onboarding session where we help them frame development goals deliberately and thoughtfully.
Then, each month, we host a live, interactive workshop around one of the five core areas listed below. Each workshop is followed by a themed, facilitated roundtable approximately two weeks later.
Towards the middle of the program, we invite all participants to attend a second individual coaching session to make sure they're doing well with the course and that their development plan is on-track.
Finally, we host one last individual coaching session to ensure that each participant is harnessing what they've learned and that their ongoing development plan is in good shape.
Once these steps are completed, participants graduate, receiving a certificate.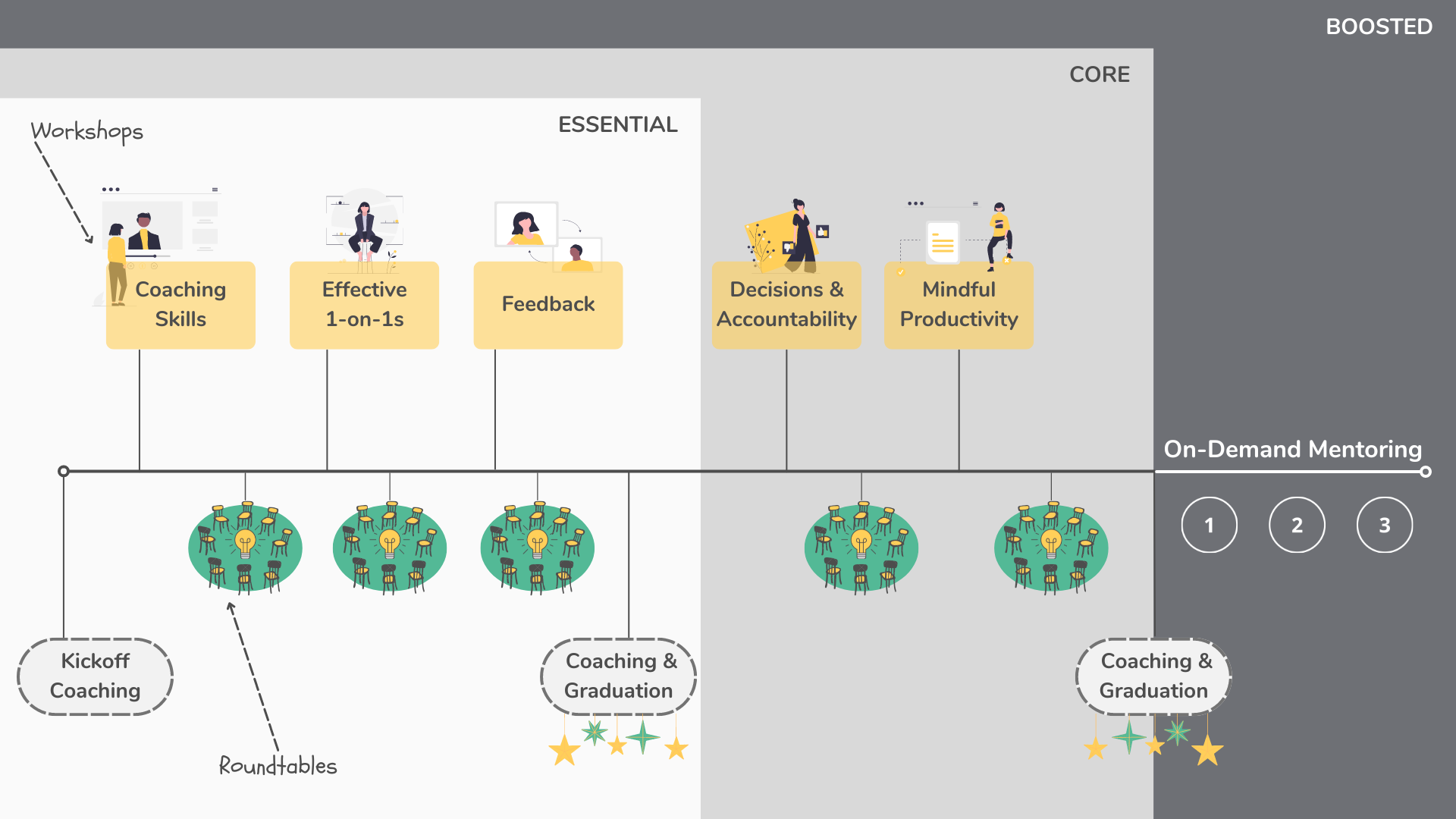 A typical Core Leader program
Adaptive Leader Track
Overview: individual tailored tuition, personalized coaching and roundtables
This track is designed with more experienced leaders in mind.
We provide individual tuition and coaching on the core topics from our program. This mentorship draws in materials from our workshops (and beyond). 
Each leader receives 10 coaching sessions, spaced over 5-6 months. They also participate in monthly 1hr roundtables in small cohorts with fellow leaders.
In the first individual session, the coach and the leader (the 'coachee') will review the program topics together and discuss the coachee's relevant experience levels, potential skill gaps, recently received feedback and more. 
From this initial discussion, the coach will work with them to provide personalized tuition and coaching, delivering an individuated growth and learning journey.
In the roundtables, we'll facilitate discussion about the application of this learning as well as build the peer-coaching muscles of the participants, helping them foster a support network of fellow leaders.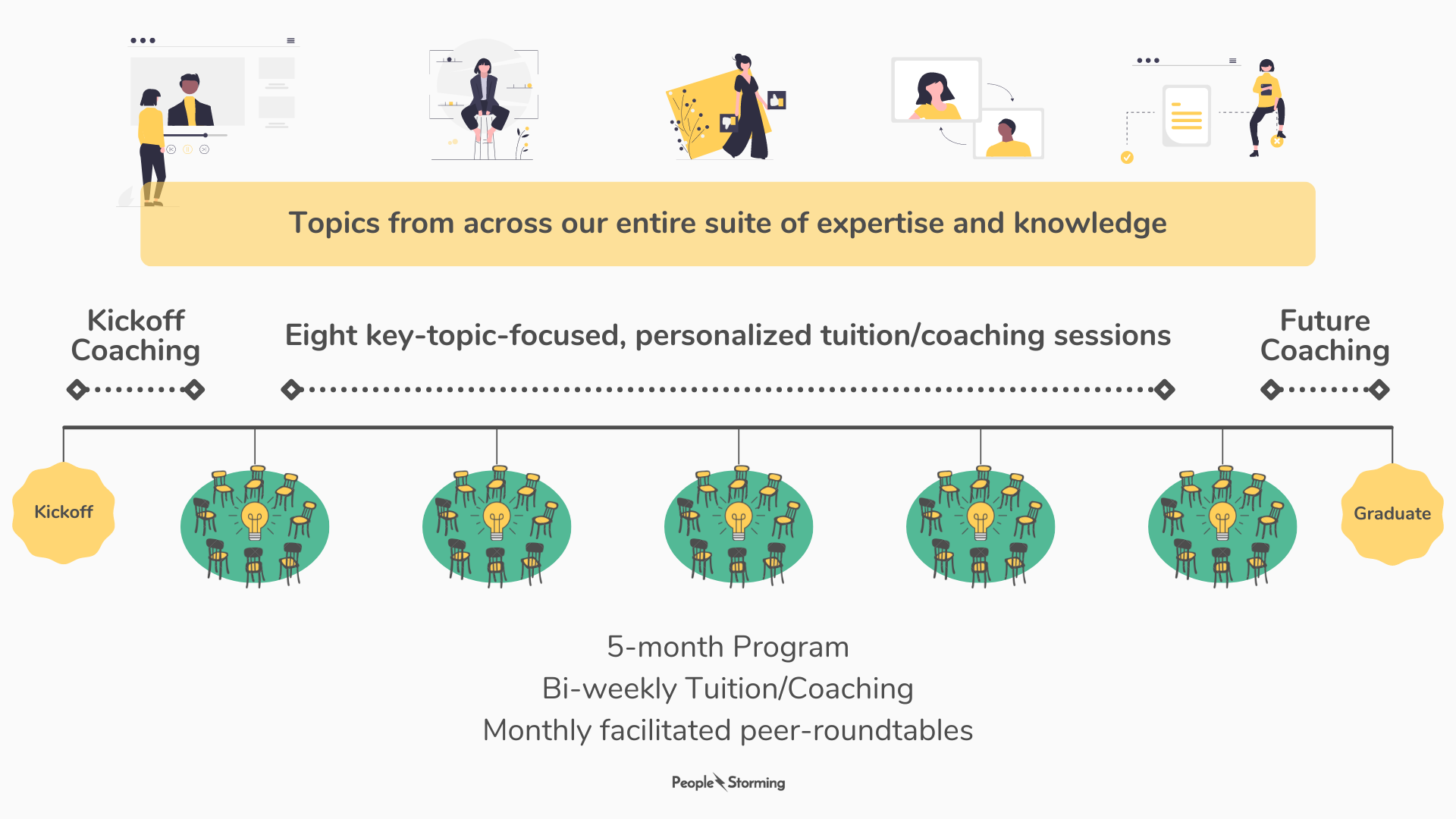 A typical Adaptive Leader program
Supporting Materials (both tracks)
All leaders will have a program companion to help them keep track of progress, ideas and actions. Participants in the Core Leader program will receive a handout for each workshop and Adaptive Leader program participants will receive materials as appropriate depending on their identified needs.
Next Steps
To begin, we'll meet with you to learn more about your leaders and the environment they are operating in. We'll learn about the challenges you've experienced and the aspirations you have for the future. Armed with this knowledge, we'll make a recommendation and put together a proposal with fees based on participant and cohort numbers.