As a society, we have 11 million meetings a day. Of these meetings, around half are unproductive, costing $37bn a year.
Companies frequently over-rely on meetings as their primary collaboration tool for want of a better standard for when something should be a meeting. Compounding this problem, the meetings that might be good uses of time are often frequently ruined by a lack of planning, design and focus.
We built this workshop to address these problems and have seen attendees make rapid progress both in reducing meeting load and making their remaining meetings more thoughtful, human-centered and effective. It's for all professionals who want to spend more time delivering value and less time just talking about it.
In this 2 x 2.5h workshop, you will...
Learn how to identify whether a meeting is the best choice
Explore your digital workplace and the use of asynchronous tools as alternatives to meetings
Practice defining a strong purpose for meetings and creating effective invitations
Calculate the value-cost tradeoff of meetings
Choose the minimum set of  invitees needed for meeting success
Define the outcomes of a meeting, build its agenda and then evaluate its success
Design meetings for engagement, focus, inclusivity and participation
Plan for the capture of meeting content
Identify problem areas and how to mitigate them
Learn how to create self-organizing agendas
Explore how to distill information quickly and find points of alignment
Tour simple decision-making processes
Make brainstorming more accessible and inclusive
Practice designing a real meeting using our frameworks
Work as a group to develop meeting principles for your organization
Build an action plan for change - encompassing habits, norms and behaviors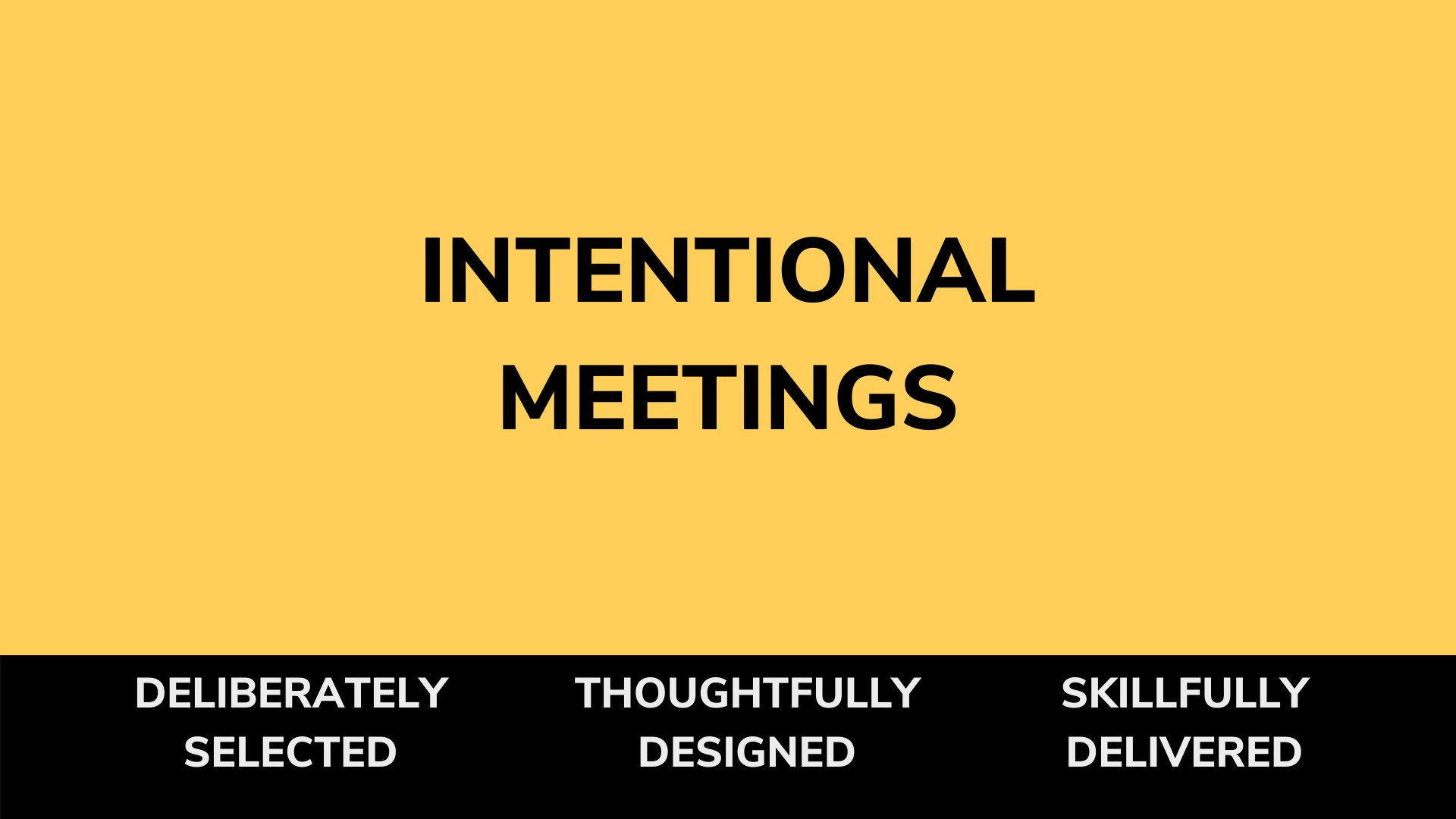 Advanced Workshop
Building on the success of our Fix Your Meetings workshop, we created an extended course to include material from our Applied Facilitation workshop. Once meetings are deliberately selected and thoughtfully designed, they also need to be skillfully delivered (ensuring that meeting owners reap the value of their careful planning).
This 3 x 2.5h workshop is particularly suited to professionals either in leadership roles or positions where leading meetings is a critical part of their role (scrum masters, dev managers, product managers etc).
In addition to covering all of the items from Fix Your Meetings, in this workshop, you will...
Ensure you and others engage with self-awareness and balance
Learn how to keep meeting conversations aligned and on-track
Successfully surface and navigate conflict in meetings
Understand group dynamics and manage harmful behaviors
Scale activities according to group size
Identify how to prepare the physical and/or digital space for participants
Learn how to create working agreements
Manage participant energy
Explore visual facilitation tricks
Practice managing time in meetings and learn how to end meetings quickly, when needed
Gain techniques for effectively capturing meeting summaries
Learn how to assess the success of a meeting quickly